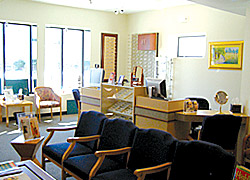 Just three blocks down the street from our previous location, New Jersey Contact Lenses is now going to join forces with New Jersey Eye Care to offer the best, most complete, and comprehensive eye health care available today. We are able to combine the same fine care and specialization for contact lens fittings that we always offered and expand our preventative eye care to fully include all types of services for all members of the family. We can care for you and your family, at all ages and stages, from birth to senior status.
New Jersey EyeCare/New Jersey Contact Lenses is a full-scope optometric practice with a concentration on contact lenses. Using the state of the art technology and some of the newest and most innovative instrumentation available, we are able to provide arguably, the most thorough eye examination available. With the Optos Panoramic 200, we are able to perform full health exams without the discomfort and inconvenience of dilation. We evaluate, monitor, and when appropriate treat, all types of problems from glaucoma or keratoconus to diabetic, hypertensive or other sight threatening diseases.
We are proud to offer:
State of the art computerized patient records
Some of the newest and most innovative instrumentation
A full scope practice that offers eye exams for all ages and stages
Many years of experience fitting challenging contact lens cases with complications such askeratoconus, penetrating keratoplasty, and post corneal graft scarring
All types of primary eye health examinations including annual evaluations and school visual screenings
Over 180 different types of contact lenses
We design our own rigid lenses and dispense them to our patients very rapidly
State of the art computerized patient records
Dilation free retinal examination, with computerized retinal photos that are kept and compared year-to-year
New Jersey Contact Lenses/New Jersey EyeCare always strives to provide exceptional dedication and service to our patients. Our convenient Millburn location makes us readily accessible by all major roadways. We look forward to meeting you and helping you meet your vision goals.