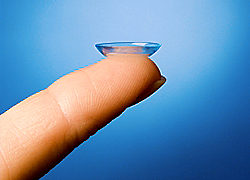 We specialize in hard-to-fit contact lens patients and employ over 180 types of contact lenses.
There are many types of contact lenses available. At New Jersey EyeCare/New Jersey Contact Lenses, we will help you select the right kind to best fit your lifestyle and health needs. We carry the latest FDA approved contact lenses. We conduct studies through our affiliations with contact lens manufacturers to test new contact lenses. New Jersey EyeCare is often the only office in our area to carry newly approved contact lenses. We offer: soft contact lenses, disposable lenses, daily disposable lenses, rigid gas permeable lenses, specialty lenses, vision shaping therapy lenses, and lenses for those over 40.
Soft contact lenses: Soft contact lenses are comfortable and correct for conditions such as myopia, hyperopia, astigmatism, and presbyopia.
Disposable lenses: Disposable lenses are replaced on a regular basis, usually one week after overnight wear or two weeks of daily wear. They are available for most types of vision correction.
Daily disposable lenses: Daily disposable lenses, such as 1-Day Acuvue®, are replaced after each use and require no lens care. They are perhaps the healthiest type of lens because any debris, buildup or bacteria will be thrown away along with the lens after each use. Many designs and materials are now available with "disposability" options. We currently offer daily, weekly, bi-weekly, monthly, bi-monthly, quarterly, and semi-annual contact lens replacement programs.
Rigid Gas Permeable (RGP) lenses: As the name implies these lenses are firm and do not contain water. Hard materials take a somewhat longer time to adapt to than soft, but once that is accomplished; they can be worn with comfort and safety by most individuals. Rigid Gas Permeable lenses may provide better visual acuity than soft lenses. They can be designed in virtually any size, shape, and prescription
Specialty Lenses: We offer many other contact lens options including bifocal contact lenses, custom designed lenses, cosmetic (or colored) lenses, Orthokeratology (myopia control) lenses, aphakic contact lenses for cataract patients, and color deficiency lenses.
Yes, Contact Lenses Can Correct Those "Over 40" Eyesight Issues.
Do you feel that your arms are not long enough? You can no longer hold the page at enough of a distance to read clearly? Once you are 40 or over, your vision may be changing. Your vision for reading and other close work may begin to blur and you may also see changes in your distance vision. There is good news: you do not need to rely on reading glasses or bifocal glasses to correct these problems, there are contact lenses that can provide the solutions that you need.
Bifocal lenses: Bifocal contact lenses, like bifocal eyeglasses, have a prescription for both near and far vision in each lens. They come in a variety of designs.
Monovision: A pair of contact lenses, one focused on near and the other focused on distance vision, can be worn in place of reading glasses or bifocals.
Distance contact lenses: A pair of contact lenses required for distance vision can be used in conjunction with reading glasses.
Progessive Vision lenses: Just like progressive eye glasses, progessive vision lenses correct vision from near to far distances smoothly, and with little gap in between corrective areas.